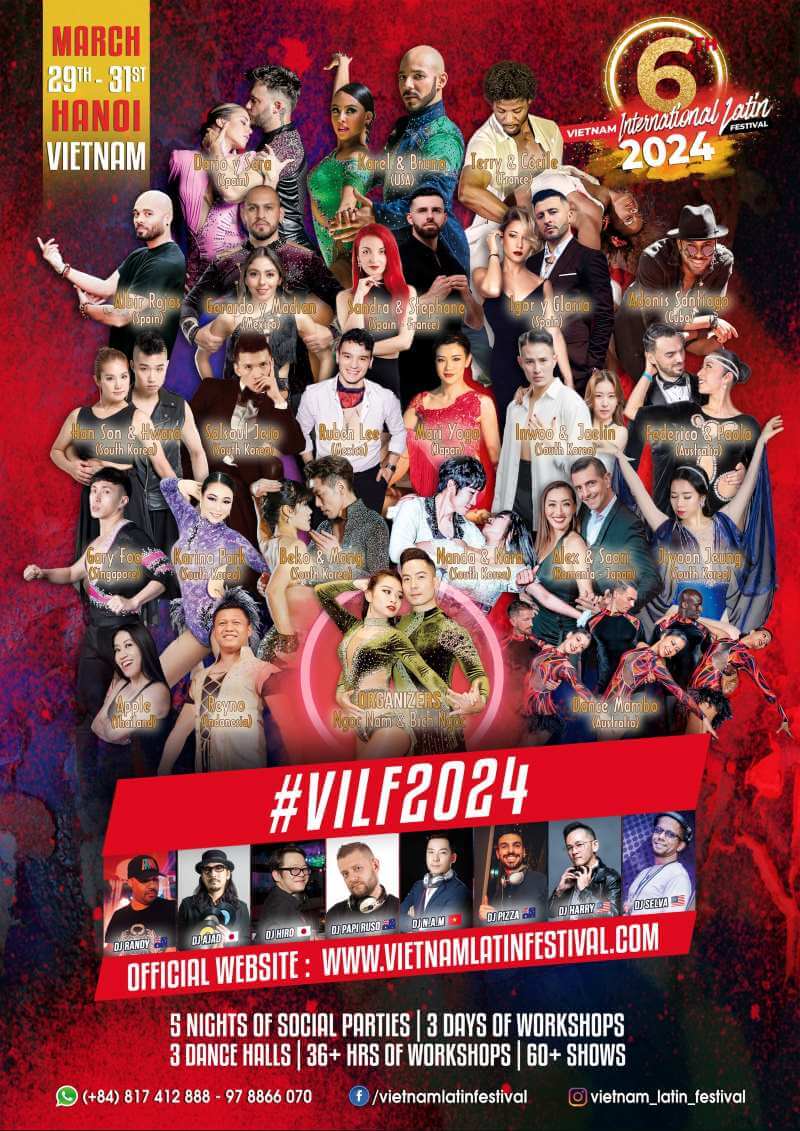 Ready for the Great Vietnam International Latin Festival!
719
719 people viewed this event.
Specifically, the Vietnam International Latin Festival 2024 (6th Edition) will take place in Hanoi, Vietnam from March 29th until March 31st, 2024. Indeed, this is the biggest Latin Dance festival in Vietnam. Moreover, It is also one of the best dance festivals in Asia! Therefore, don't miss it!
So why should you attend the Vietnam International Latin Festival?
Firstly, it will feature 3 days and 4 nights of dancing. Secondly, it will have many world-famous artists, dancers, and groups from all over Asia. Thirdly, this Festival will feature Salsa, Bachata, and Kizomba dancing!
Additionally, there will be seventy shows, carefully prepared by artists as well as dance teams.
3 Days of Workshops, with more than 36 workshops as well as, multiple boot camps & Master Classes with top instructors.
4 Nights social parties until 3am (Pre-party & 3 nights main event) at 3 Large Dance Halls (Salsa hall / Bachata hall / Kizomba hall) with top DJs.
Furthermore, all passes must be purchased directly via the organizer's website. At the present time, no Bachata Embassy Promo Codes are available for this festival.
Salsa & Bachata Artist Line up
Karel Flores & Bruno Rodriguez (USA)
Terry & Cecile (France)
Panagiotis & Myrto (Greece)
Adonis Santiago (Cuba)
Igor y Gloria (Spain)
Dario y Sara (Spain)
Gerardo y Madian (Mexico)
Ruben Lee (Mexico)
Inwoo & Jaelin (South Korea)
Salsoul Jeio (South Korea)
Han Son Lee & Hwara (South Korea)
Mari Yogo (Japan)
Beko & Mong (South Korea)
Federico & Paola (Australia)
Jiyoon Jeung (South Korea)
Yong Su Jeong (South Korea)
Lion Gak (South Korea)
Wongoong & Yoni (South Korea)
Gary Foo (Singapore)
Nanda & Nara (South Korea)
Karina & Mac (South Korea)
Alex & Saori (Romania & Japan)
Apple Busakorn (Thailand)
ReynoTommy (Indonesia)
Kizomba Artists Line up
Albir Rojas (Spain)
Sandra Gutiérrez (Spain)
Stephane Angles (France)
Francois Francezon (France)
Kevin & Laura (Philippines & USA)
Hoc Chau (Switzerland)
Kiz Cat (Hongkong)
Naru (Vietnam)
Vietnam International Latin Festival DJ Line-up
Randy Castilla (Peru/Australia)
Hiro (Japan)
Ajad (Japan)
Papi Ruso (Australia)
Selva (Malaysia)
Pizza (Italy/Australia)
N.A.M (Vietnam)
Harry (Malaysia)
Master Classes
Firstly a SALSA Master Class: Secrets of Social Dancing "How to lead and follow everything" by Panagiotis & Myrto (Greece)
Secondly an AFRO-CUBAN Master Class (2 Hours) by Adonis Santiago (Cuba)
Thirdly, a SPINNING TECHNIQUE Master Class (2 Hours) by Gerardo & Madian (Mexico)
Fourthly, a KIZOMBA Master Class (2 Hours) by Albir Rojas (Spain)
Another KIZOMBA Master Class (2 Hours) by Sandra (Spain)
Lastly, a KIZOMBA Master Class (2 Hours) by Stephane & Sandra (Spain & France)
DISCLOSURE STATEMENT
Specifically, all information provided here is for informational purposes and is subject to change. Certainly, we do our very best to keep all data up to date.
However, it is important to check all information with the official organizers to ensure accuracy. We are not responsible and are not liable for any damages caused by inaccurate information.
ABOUT US
The Bachata Embassy is based out of the Washington, DC Metro Area with Team members and also Bachata Dancers from all over the globe! We are indeed passionate about Bachata!
Above all, we are also dedicated to growing the Bachata community by highlighting all styles of professional Bachata dance instructors, artists, festivals, news, and events around the world!
This includes Traditional Bachata, Bachata Sensual, Bachata Tango, and also Bachata Fusion. We are also a multilingual website.
Furthermore, for the latest information on Bachata Festivals around the world check out the Bachata Embassy Events Calendar here!
If you would like to add your upcoming Bachata Festival to our Calendar, then contact us here!
You can also join the Bachata Embassy Facebook Group here!
Follow us on Instagram here!
Additionally, check out some of our recent Bachata Embassy articles listed below:
Where to dance Bachata Salsa & Kizomba in Buenos Aires
Bangkok Nightlife Best Places to Dance
Paris Nightlife Best Places for Dancers
Most Popular Bachateros on Instagram
Where To Dance Bachata in Tokyo Japan
Best places to Dance Bachata in Spain
How To Pick The Right Dance Instructor
Top 50 Tips For Taking Bachata and Salsa Classes
Specifically, Kizomba dancers should check out our sister site Kizomba Embassy. Indeed here you can find the latest information on Kizomba Festivals and also the top Kizomba Dancers, who are Kizomba Ambassadors!
Additional Details
Organizer name - Nam Ngọc Đoàn - Ngọc Bích
Organizer Email - vnlatinfestival@gmail.com
Website - https://vietnamlatinfestival.com/
Facebook - https://www.facebook.com/events/3101204293256195/