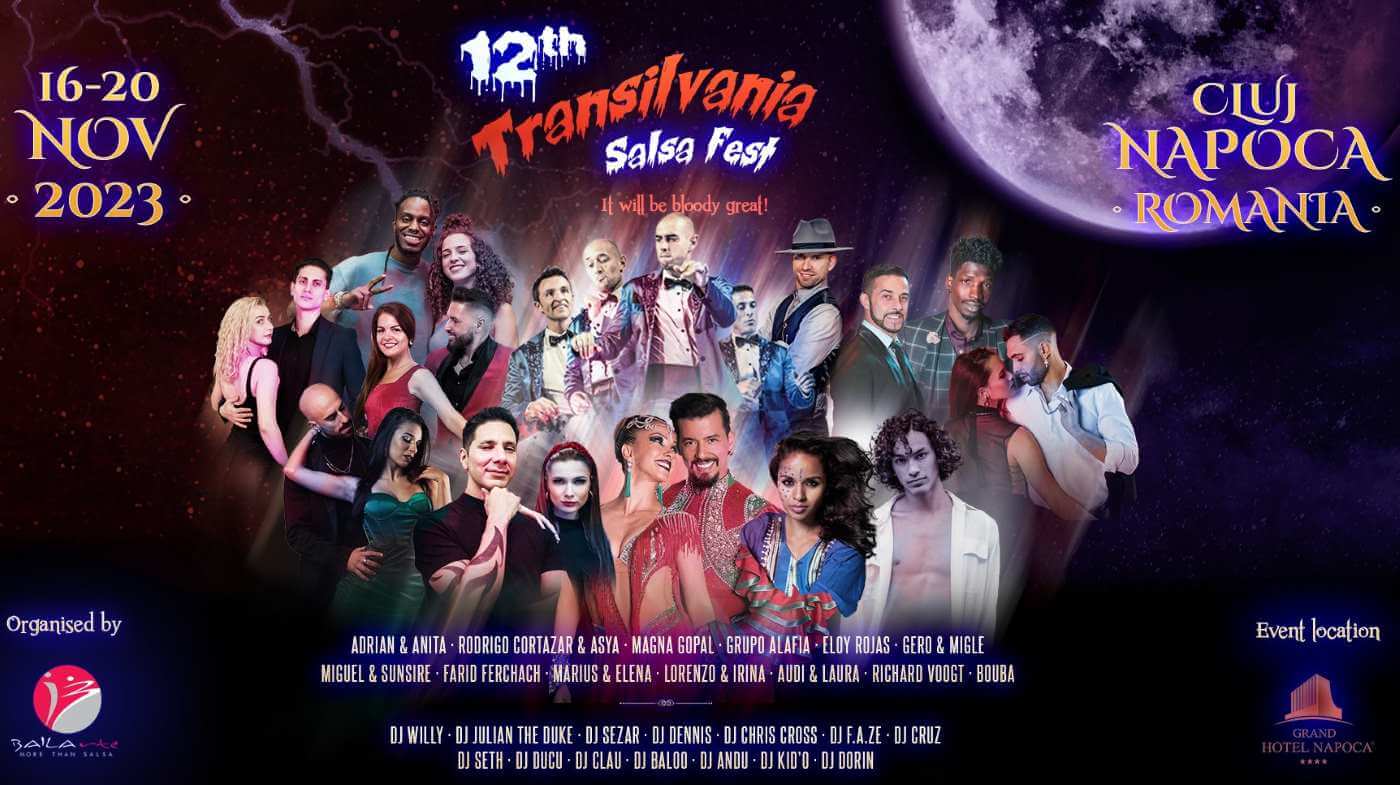 Transylvania Salsa Festival Will Be Spooky!
84
84 people viewed this event.
The 12th Transylvania Salsa Festival is all set for 16-20 November 2023! Use our Special discount link to get your Passes!
Where will the Transylvania Salsa Festival be held?
It will be held at the Grand Hotel Napoca in Cluj-Napoca, Romania. If the rooms are fully booked check out the Square Hotel or other options here.
The Bailarte Dance School is the organizer of the 12th Transilvania Salsa Festival in Cluj-Napoca, the heart of Transylvania!
This feisty dance festival brings dancers, instructors, performers, and all kinds of salsa freaks to a bloody great and unforgettable weekend,
Why Should I Attend the Transylvania Salsa Festival?
4 days of surreal salsa experience mixed up with endless parties spiced up by some of the best DJs, juicy workshops with an exclusive line-up of international and national instructors, and shows from out of this world.
Salsa on 1, on 2, bachata, and kizomba will satisfy your dancing lust in Transylvania, within 3 large rooms to party – 1 for Salsa, 1 for Bachata, and 1 for Kizomba + 1 room for Social by day.
This is an all-in-one location festival! Workshops, parties, and accommodation will all be at Grand Hotel Napoca.
DISCLAIMER: This post may contain affiliate links. If you buy something through one of these links or promo codes, you won't pay a penny more, but we will get a small commission, which helps keep the lights on.
Salsa Dance Artists – Transylvania Salsa Festival
Adrian & Anita
Rodrigo Cortazar & Asya
Magna Gopal
Grupo Alafia
Farid Ferchach
Eloy Rojas
Bachata Dance Artists – Transylvania Salsa Festival
Gero & Migle
Miguel & Sunsire
Marius & Elena
Lorenzo & Irina
Kizomba Dance Artists – Transylvania Salsa Festival
Audi & Laura
Richard Voogt
Bouba
DJ's Line-up:
Willy – Ned
Julian – The Duke – UK
Sezar -Nor
Dennis – UK
Cruz – UK
Chris Cross – Du
F.A.ZE – Sp
Seth – Ro
Ducu – Ro
Clau -Ro
Baloo – Ro
Kid'O – Ro
Andu – Ro
Dorin – Ro
For more information contact the festival organizers below:
0040747171850 Cotiso
0040744139532 Carolina
0040752608043 Andrada
Our Full Pass Discount Price
15 Nov 22:59 5€ discount 135€
16 Nov 22:59 5€ discount 155€
Twilight SOCIAL Pass 95€
01 Sep 22:59 5€ discount 115€
15 Nov 22:59 5€ discount 125€
16 Nov 22:59 5€ discount 135€
Darkside PARTY Pass
01 Sep 22:59 5€ discount 105€
15 Nov 22:59 5€ discount 115€
16 Nov 20:00 5€ discount 125€
Bachata Embassy Recent Blog Posts
Check out some of our recent Bachata Embassy blog posts listed below:
Where to dance Bachata Salsa & Kizomba in Buenos Aires
Bangkok Nightlife Best Places to Dance
Paris Nightlife Best Places for Dancers
Most Popular Bachateros on Instagram
Where To Dance Bachata in Tokyo Japan
Salsa Dancing In San Francisco
Best Places to Dance Bachata in Spain
DISCLOSURE STATEMENT
Specifically, all information provided here is for informational purposes and is subject to change. We do our very best to keep all data up to date.
However, it is important to check all information with the official organizers to ensure accuracy. We are not responsible and are not liable for any damages caused by inaccurate information.
ABOUT US
The Bachata Embassy was founded in Washington, DC! We have Team members and Bachata Dancers all over the globe! Indeed, we are passionate about Bachata!
Above all, we are dedicated to growing the Bachata community worldwide! We promote all styles of professional Bachata dance instructors, artists, and festivals!
This includes Traditional Bachata, Bachata Sensual, Bachata Tango and also Bachata Fusion. We are also a multilingual website.
For the latest information on Bachata Festivals check out the Bachata Embassy Events Calendar here!
You can add your Bachata Festival to our Calendar here! Contact us here!
You can also join the Bachata Embassy Facebook Group here!
Follow us on Instagram here!
Kizomba dancers, check out our sister site Kizomba Embassy. Here you can find the latest information on Kizomba Festivals around the world. Check out our top Kizomba Artists, Dancers, who are Kizomba Ambassadors!
Lastly, check out our latest Ultimate Guide to Kizomba Dancing here!
Additional Details
Organizer name - Transylvania Salsa festival
Facebook - https://www.facebook.com/events/2275974129247574