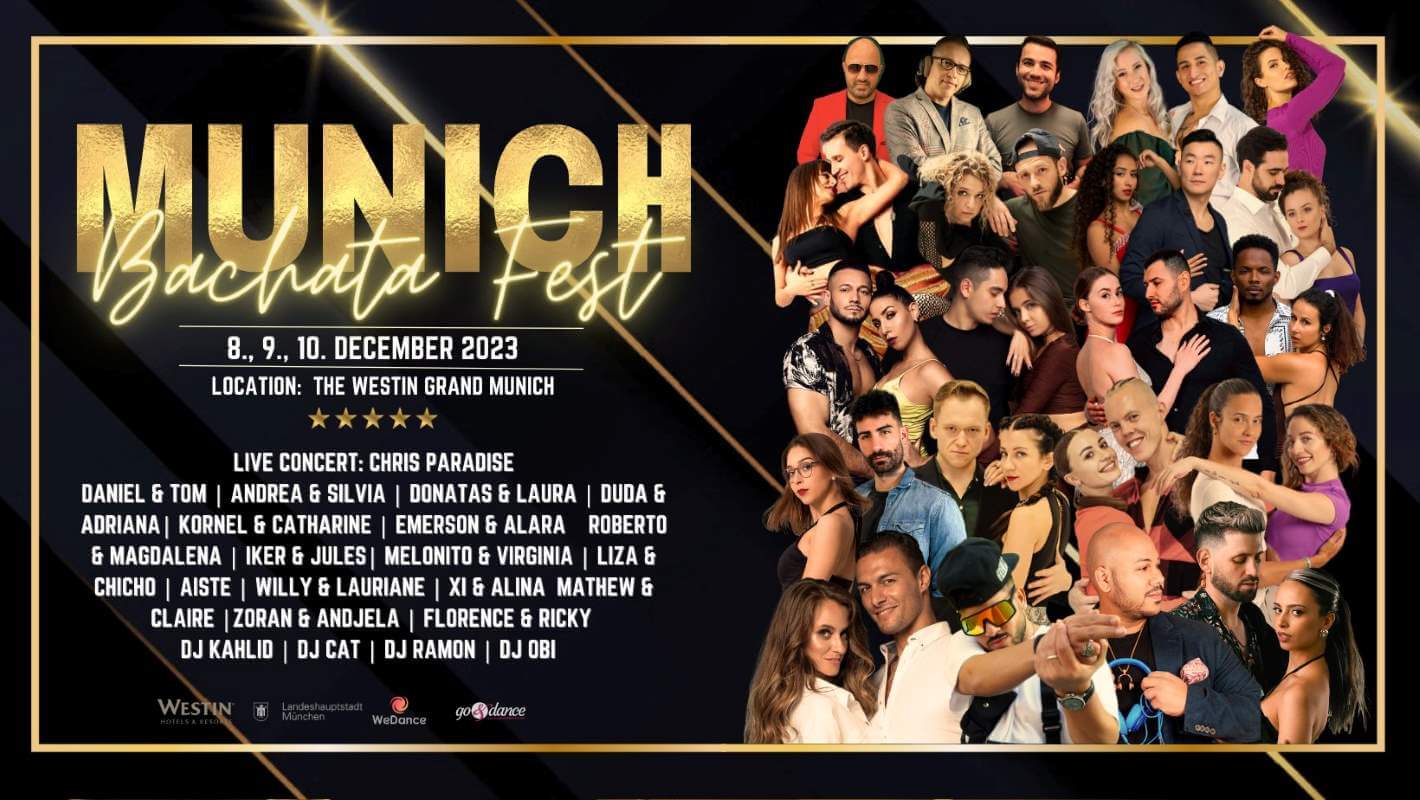 2023 Munich Bachata Festival Will Make You Happy!
54
54 people viewed this event.
Indeed, the 2023 Munich Bachata Festival will be held at The Westin Grand Munich, located at Arabellastr 6, 81925 Munich, Germany. At the present time, the rate is approximately 400 Euros for three nights. Specifically, the dates for this festival are December 8-10, 2023!
If you would like a more cost-effective hotel nearby (a 5-minute walk) then the Best Western Hotel Arabellapark München currently has an excellent rate of 235 Euros for three nights. Additionally, Best Western has a higher review rating than Westin.
MOREOVER, USE OUR SPECIAL BACHATA EMBASSY DISCOUNT LINK TO GET YOUR FULL PASS HERE!
DISCLAIMER: Specifically, this post may contain affiliate links. If you buy something through one of these links or promo codes, you won't pay a penny more, but we will get a small commission, which helps keep the lights on. Additionally, we are an Amazon Associate and earn from qualifying purchases. Thanks for supporting us!
SO WHY SHOULD I ATTEND THE 2023 MUNICH BACHATA FESTIVAL?
Firstly there will be a live concert with Chris Paradise!!
Secondly, there will be three amazing nights of social dancing (Friday – Sunday night).
Thirdly there will be some amazing performances from awesome professional dancers.
Fourthly this is an all-in-one Bachata Festival at an amazing venue with a pool, spa, fitness area, etc!
Lastly, there will be a Jack & Jill dance Competition!
WHO ARE THE ARTISTS OF THE 2023 MUNICH BACHATA FESTIVAL?
Daniel & Tom
Andrea & Silvia
Donatas & Laura
Melonito & Virginia
Duda & Adriana
Chicho & Liza
Ricky & Florence
Kornel & Kathrine
Aiste
Xi & Alina
Iker & Jules
Matthew & Claire
Roberto & Magdalena
Emerson & Alara
Willy & Lauriane
Zoran & Angela
WHO ARE THE DJs FOR THE 2023 MUNICH BACHATA FESTIVAL?
Khalid
Ramon
Cat
Obi
Jane DIA
Jane MC Mac
Orhanito
DISCLOSURE STATEMENT
Specifically, all information provided here is for informational purposes and is subject to change. Certainly, we do our very best to keep all data up to date.
However, it is important to check all information with the official organizers to ensure accuracy. We are not responsible and are not liable for any damages caused by inaccurate information.
ABOUT US
The Bachata Embassy was founded in Washington, DC with Team members and Bachata Dancers from all over the globe! We are indeed passionate about Bachata!
Above all, we are also dedicated to growing the Bachata community by highlighting all styles of professional Bachata dance instructors, artists, festivals, news, and events around the world!
This includes Traditional Bachata, Bachata Sensual, Bachata Tango, and also Bachata Fusion. We are also a multilingual website currently available in English, French, Portuguese, Spanish, Japanese, Italian, Polish, and Chinese.
For the latest and up-to-date information on Bachata Festivals worldwide, check out the Bachata Embassy Events Calendar here!
If you would like to add your upcoming Bachata Festival to our Calendar, then contact us here!
Join the Bachata Embassy Facebook Group here!
Also, follow us on Instagram here!
Check out our Bachata Embassy Facebook page here!
Check out some of our recent Bachata Embassy articles listed below:
Where to dance Bachata Salsa & Kizomba in Buenos Aires
Bangkok Nightlife Best Places to Dance
Paris Nightlife Best Places for Dancers
Most Popular Bachateros on Instagram
Where To Dance Bachata in Tokyo Japan
Best places to Dance Bachata in Spain
See our latest article on Latin Ballroom Dance Lessons here!
See our latest blog posts here!
Moreover, Kizomba dancers, check out our sister site Kizomba Embassy. Indeed here you can find the latest and up-to-date information on Kizomba Festivals and our Kizomba Ambassadors!
Additional Details
Organizer name - Munich Bachata Festival 2023
Organizer Email - info@bachata-musicality.com
Website - https://bachata-fest.com/
Facebook - https://www.facebook.com/events/1194452367919073