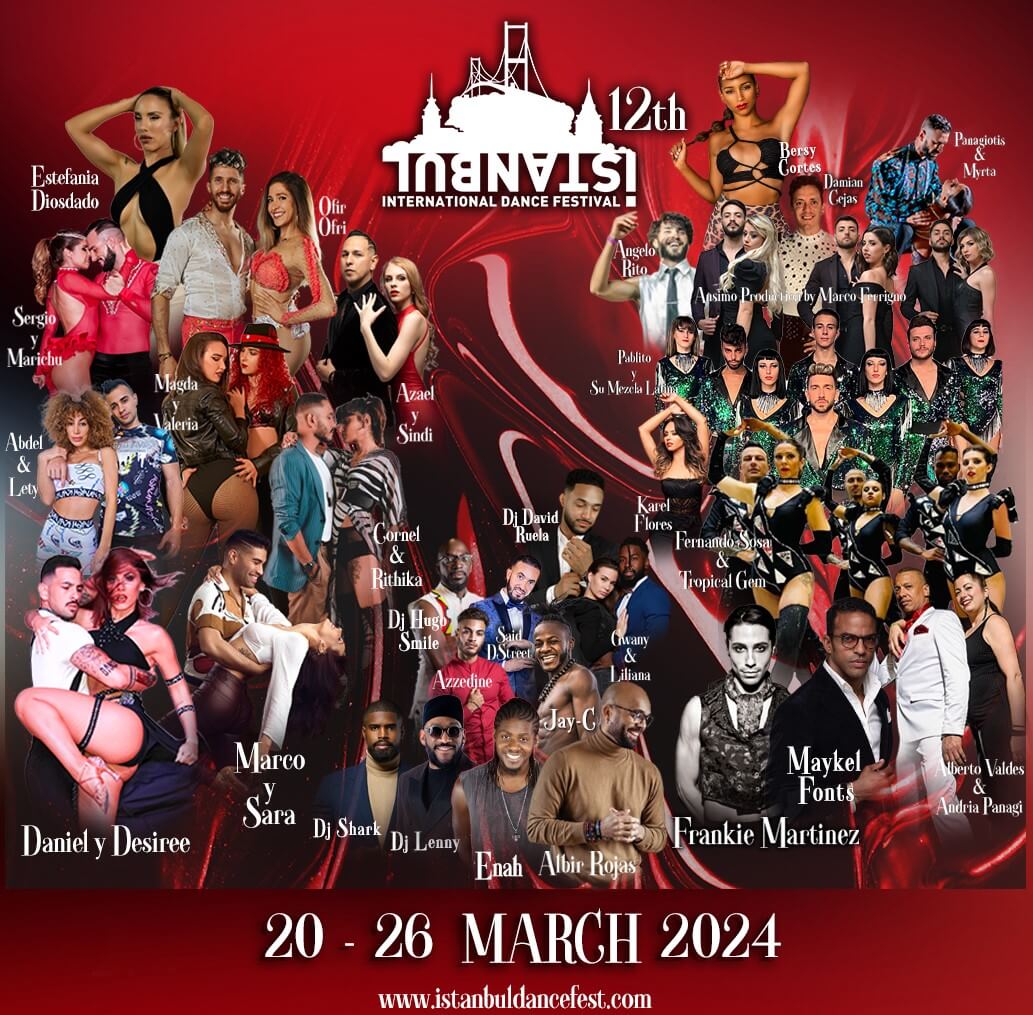 ISTANBUL DANCE FESTIVAL WILL MAKE YOU FEEL SUBLIME!
1057
1057 people viewed this event.
We're ready for the 2024 Istanbul Dance Festival! Indeed, in 2024, this festival will celebrate its 12th Anniversary Edition of this Dance Festival!
Specifically, this fun and exciting Salsa, Bachata, and Kizomba Dance Festival will be held from March 20th until March 25th, 2024 in Istanbul Turkey!
Istanbul also known as the city of Sultans is waiting for you! It is a magnificent city with a rich history.
Historically, it was specifically referred to as Byzantium and Constantinople. Besides its historical sites, you will find many wonderful modern-day conveniences and breathtaking views in this alluring Turkish city.
Come and dance with the Sultans of Dance!
For Flights, Car Rentals, Attractions, and more use our Special Bachata Embassy Travel Link!
What is the 2024 Istanbul Dance Festival Venue?
Pullman Istanbul Hotel & Convention Center: Yenibosna Merkez, 1. Asena Sk. No:15, 34295 Bahçelievler, İstanbul, Turkey.
If the main hotel is sold out, then the Bachata Embassy recommends the following hotels near the festival. The Istanbul Gonen Hotel, the Gorrion Hotel & the Seyithan Palace Hotel.
Festival passes are available directly from the Festival Organizers' website.
No Bachata Embassy Discount Promo Codes are available for this dance festival. Prices currently start at 140 Euros.
Also, remember to get your E-Visa if traveling to Turkey from abroad!
DISCLAIMER: Specifically, this post contains affiliate links. If you buy something through one of these links or promo codes, you won't pay a penny more, but we will get a small commission, which helps keep the lights on. Additionally, we are an Amazon Associate and earn from qualifying purchases. Thanks for supporting us!
Top Rated Lady's Dance Shoes! (Ad)
2024 Istanbul Dance Festival Bachata Artists
Daniel y Desiree (Spain)
Marco y Sara (Spain)
Cornel y Rithika (India)
Abdel y Lety (Spain)
Azael & Sindi (Mexico & Lithuania)
Magda y Valeria (Poland & Italy)
Ofir & Ofri (Israel)
Sergio y Marichu (Spain)
Estefania Diosdado (Spain)
Ais & Vital (Kazakhstan)
Andres & Katrina (Colombia & Russia)
Arnaldes & Bri (Israel)
Besher Hamdan & Maria Luneva (Turkey & Russia)
Burak Akkoç (Turkey)
Burak & Begüm (Turkey)
Dima y Dilara (Russia)
Dorin & Claudia (Romania)
Ecemsu Aydın & Mert Can Özkan
Eliza Kariieva (Ukraine)
Emigen & Emanuela (Albania)
Emerson y Alara (Germany)
Emotion Dance Studio (Bulgaria)
Furkan Dinçer & Budans Social (Turkey)
Joan & Sindi (Albania)
Konstantinos & Katerina (Greece)
Lorenzo & Irina (Romania)
Kenan & Işıl (Turkey)
Konstantin & Polina (Russia)
Kristina Bukulova (Russia)
Marco Ferra (Cyprus)
Marco & Vessy (Bulgaria)
Mert Gençoğuz & Sinem Şahin (Turkey)
Muhammet & Dinara (Turkey)
Murat Karakaş (Turkey)
Nadia Compas (Russia)
Nelson (Australia)
Oleg & Lena (Russia)
Ömer & Şule, Serhat & Gonca, Pilatin (Turkey)
Roger Cracco (UK)
Rron Haxhiislami (Kosova)
Saj & Emi (UAE)
Sakis y Marta (Netherlands)
Samantha (France)
Satsuki Amano (Japan)
Sefa Şahin (Turkey)
Serap (Malta)
Sergio & Daria (Turkey)
Soreş (Turkey)
Sorush – Crazy Lion (Sweden)
Stelios & Konstantina (Greece)
Twins & Curlies (Russia)
Viktorija (Lithuania)
Yoanna & Stanislav (Ukraine)
Teodora Kaloyanova (Bulgaria)
Viktor & Valeria (Russia)
Vlad Y Nataly (Russia)
Yalçın & Sheyda (Turkey)
Kizomba & Urbankiz Artists
Albir Rojas (Spain)
Azzedine (France)
Enah Lebon (France)
Jay-C (France)
Gwany & Liliana (France)
Said Dstreet (Ukraine)
Endos & Yare (Holland & Turkey)
Gadour & Paulina (Tunisia & Malta)
Jules Kizouk (Canada)
Mert Ocho (Netherlands)
Nick & Olga (Australia & Russia)
Sanjay MJ (India)
Alex Karo & Tamo (Georgia)
Amr Kasseb (Egypt)
Bekzod & Svetlana (Turkey)
Emin & Lana (Turkey)
Erkam & Kübra (Turkey)
Izzet Yıldız (Turkey)
İrfan Ayık/Kizmir (Turkey)
Lidiya (Turkey)
Messouth & Gülay (Turkey)
Ömer Kılıçgil (Turkey)
Satsuki Amano (Japan)
Tatiana Che (Russia)
Victoria Olefir (Ukraine)
Volkan & Xenia (Turkey)
2024 Istanbul Dance Festival Salsa Artists
Alberto Valdes & Andria Panagi (Cuba)
Maykel Fonts (Cuba)
Fernando Sosa & Tropical Gem (Italy)
Frankie Martinez (United States)
Bersy Cortez (Venezuela)
Karel Flores (United States)
Marco Ferrigno & Ansima Ballet (Italy)
Pablito y Su Mezcla Latina (Italy)
Panagiotis & Myrto (Greece)
Albina & İlia (Russia)
Angelo Rito (Italy)
Arianna & Eva Bazzini Sisters (Italy)
Aytunç Bentürk (Turkey)
Damian Cejas (Netherlands)
Diego Avendano Ibarra & Özlem Sevimkan (Turkey)
Iva Iordanova (Bulgaria)
Miguel & Seda (Ireland)
Pambos & Eli (Bulgaria)
Sasha Phillips (United Kingdom)
Victor Gonzalez & Özlem Okur (Cuba)
Alp Yomralıoğlu (Turkey)
Aylin Gürsan (Turkey)
Bahar HacıMehmet (Cyprus)
Berkan & Gülden (Turkey)
Betül & Can (Turkey)
Ebru Çınaroğlu (Qatar)
Efe & Ayşe (Turkey)
Emek & Büşra (Turkey)
Engin Orhan (Turkey)
Fatih Haktan Coşkun (Turkey)
Fatih & Yasemin (Turkey)
Hasan Bostancı (Turkey)
Islam Ibragimov (Russia)
Işıl Özbek (Turkey)
Joan Eric Bailar (Cuba)
Joaquin (Cuba)
Koray & Beyza (Turkey)
Maxim & Helin (Turkey)
Mert Gençoğuz & Yağmur Şafak (Turkey)
Metin Yavaşlar (Turkey)
Nurhan Hoca (Turkey)
Nur Özkan (Turkey)
Oğuz Kurtili (Turkey)
Onur & Gözde (Turkey)
Önder Pamukoğlu (Turkey)
Raşit & Büşra (Turkey)
Sahar Abou Khalil (Lebanon)
Selin & Mehmet (Turkey)
Serkan & Yeliz Yıldız (Turkey)
Sezgin Özaslan (Turkey)
Sinan Balkaya & İzel Altınören (Turkey)
Sinan Çırka (Turkey)
Şenol Vefa Gülmez (Turkey)
Ufuk Taze (Turkey)
Yasin Kırman (Turkey)
Yoel Letan (Cuba)
DISCLOSURE STATEMENT
Specifically, all information provided here is for informational purposes and is subject to change. We do our very best to keep all data up to date.
However, it is important to check all information with the official organizers to ensure accuracy. We are not responsible and are not liable for any damages caused by inaccurate information.
ABOUT US
The Bachata Embassy was founded in the Washington, DC Metro Area with Bachata Dancers from all over the globe! We are indeed passionate about Bachata!
Above all, we are also dedicated to growing the Bachata community by highlighting all styles of professional Bachata dance instructors, artists, festivals, news, and events around the world!
This includes Traditional Bachata, Bachata Sensual, Bachata Tango, and also Bachata Fusion. We are also a multilingual website.
Additionally, for the latest information on Bachata Festivals worldwide check out the Bachata Embassy Events Calendar here!
If you would like to add your Bachata Festival to our Calendar, then contact us here!
You can also join the Bachata Embassy Facebook Group here!
Follow us on Instagram here!
Check out our Bachata Embassy Facebook page here!
Moreover, check out some of our Bachata Embassy & Kizomba Embassy articles listed below:
Most Popular Salsa Dance Videos
Where to dance Bachata Salsa & Kizomba in Buenos Aires
Bangkok Nightlife Best Places to Dance
Paris Nightlife Best Places for Dancers
Most Popular Bachateros on Instagram
Where To Dance Bachata in Tokyo Japan
Best places to Dance Bachata in Spain
How To Pick The Right Dance Instructor
Top 50 Tips For Taking Bachata and Salsa Classes
Your Ultimate Guide to Kizomba
Best Places to Dance Kizomba in Paris, France
Top Ten Most Popular Kizomba Dance Videos
Additionally, Kizomba dancers check out our sister site Kizomba Embassy. Specifically, here you can find the latest information on Kizomba Festivals and our Kizomba Ambassadors!
Additional Details
Organizer name - Istanbul Dance Festival
Organizer Email - info@istanbuldancefestival.com
Website - https://istanbuldancefest.com/
Facebook - https://www.facebook.com/events/3248168882147663