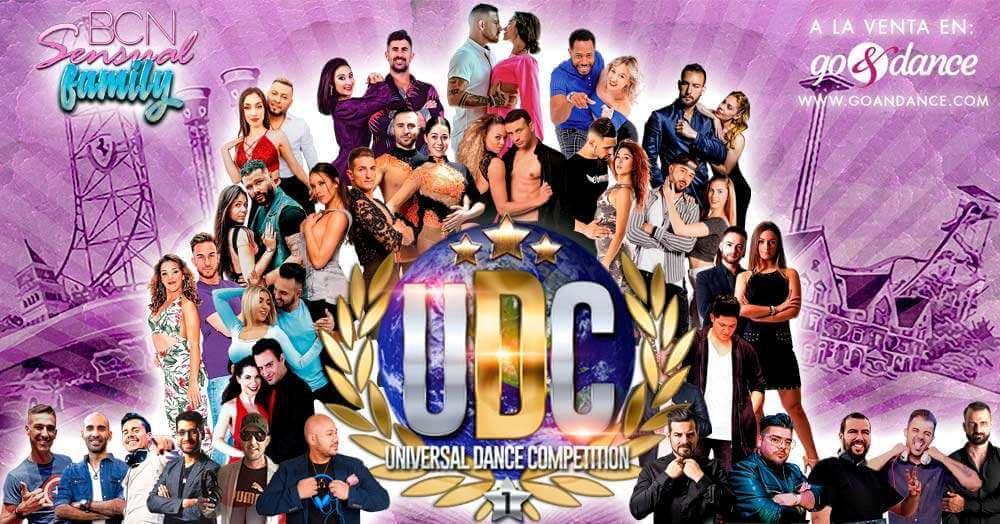 Are you ready for the Best Universal Dance Competition ever!
52
52 people viewed this event.
The Universal Dance Competition Congress 2022 will be held from April 29th to May 1st in Tarragona, Spain! Don't miss it!
The Barcelona Sensual Family & Ermes Dance presents the Universal Dance Competition Congress, a very special dance event located in a fun theme park.  This dance congress will feature pool parties, theme parties, shows, dance socials, the UDC world competition, and many more activities.
The convention center features multiple rooms for workshops and social dancing with a total capacity of 3500 people. This special event will allow you to meet and dance with people from all over the world! You will also be able to attend top-quality workshops, a world-class dance competition, and social dancing until 0700.
Tickets are available from www.goanddance.com
Universal Dance Competition Congress Artists
Daniel & Desiree
Ronald & Alba
Kike & Nahir
Carlos Espinosa & Sara
Sergio & Marichu
Gregori Campillo & Jessica
Igor & Rocio
Diego & Idaira
Antoine & Manon
Lau & July
Adrian & Anna
Chris & Sara
Oscar Garcia Amat
Elsa & Sergi
Oscar Gavilanez
Rober & Denise
Cristo Fernandez & Emma Gonzalez
Alex & Laia
Universal Dance Competition Congress DJ's
The following DJs are confirmed for this event: Dj Khalid, Dj Ned, Dj Husky, Dj Toni Pecino, Dj Tévez, Dj Giorgio Rod, Dj Smile, and Dj Kevin RG!
ABOUT US
The Bachata Embassy is based out of the Washington, DC Metro Area with Team members and Bachata Dancers all over the globe! We are passionate about Bachata!
Above all, we are also dedicated to growing the Bachata community by highlighting all styles of professional Bachata dance instructors, artists, festivals, news, and events around the world!
This includes Traditional Bachata, Bachata Sensual, Bachata Tango, Bachata Fusion, etc. We are also a multilingual website currently available in English, French, Portuguese, Spanish, Japanese, Italian, Polish, and Chinese.
For the latest and up-to-date information on Bachata Festivals around the world check out the Bachata Embassy Events Calendar here!
If you are a Bachata Organizer and would like to add your upcoming Bachata Festival and or event to our Calendar, contact us here!
You can also join the Bachata Embassy Facebook Group here!
Follow us on Instagram here!
Check out our Bachata Embassy Facebook page here!
For Kizomba dancers, check out our sister site Kizomba Embassy. Here you can find the latest and up-to-date information on Kizomba Festivals and our Kizomba Ambassadors!
Additional Details
Organizer name - Barcelona Sensual Family & Ermes Dance
Website - www.goanddance.com
Facebook - https://www.facebook.com/events/134408795467891