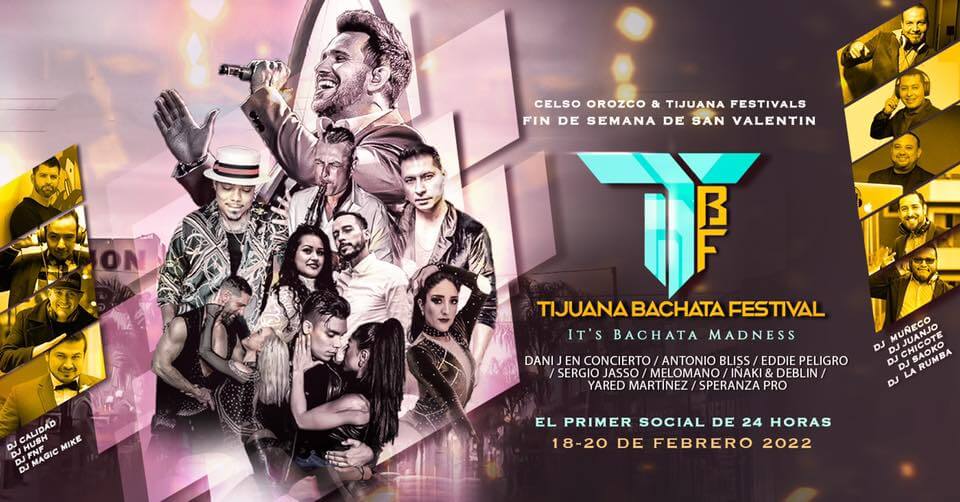 Feel the love at the Tijuana Bachata Festival!
78
78 people viewed this event.
The next Tijuana Bachata Festival is scheduled to be held on Valentine's Day Weekend, February 20-22, 2022 in Tijuana, Mexico!
Welcome to the most popular Bachata Festival in Tijuana, Mexico. This festival will include International Bachata Artists from Colombia, Spain, the United States of America, and Mexico!
We will also have a live concert by Dani J from Spain! Also a 24 hour non-stop Bachata Dancing Social! Don't miss out on this fun and exciting weekend of Bachata Dancing!
BACHATA FESTIVAL LOCATION
The festival and all activities will be held at the Hotel Gamma De Fiesta Inn-Tijuana, Mexico. Our hotel is completely for the festival guests as the organizers have all the available rooms! The hotel is located only five minutes away from the International Otay Border.
Hotel features include bars, a business center, free hotel guest parking, an outdoor pool, room service, wi-fi access, a restaurant, and a gym. This is also a 100% smoke-free hotel with laundry service and handicapped access.
Remember to book your hotel rooms through the organizer as they have all the rooms for this event!
BACHATA INTERNATIONAL ARTISTS
DANI J from Spain will be live in concert!
ANTONIO BLISS from Los Angeles, California will be live in concert
SERGIO JASSO (Tijuana)
IÑAKI & DEBLIN (Portland)
EDDIE PELIGRO (Phoenix)
YARED MARTINEZ (Tijuana)
SPERANZA PRO (San Diego)
GERARDO RAMIREZ (CDMX)
PATRICK & DIANA (San Diego)
BACHATA DJ's
CALIDAD (Phoenix)
HUSH (San Diego)
FNF (Phoenix)
JUANJO (CDMX)
MAGIC MIKE (San Francisco)
CHICOTE (Campeche)
LA RUMBA (Tijuana)
SAOKO (Tijuana)
The Full Pass is currently $89.99 with Unlimited access to all our activities. This includes all workshops, performances, Antonio Bliss Saxchata & Dani J concerts. The socials including our 24hr Bachata social and 12hr Kizomba & Zouk social are also included. Get one before the price goes up!
The 24hr Social Pass with access to our 24hr social dancing starting on Saturday 12 pm ending Sunday 12 pm. This $69.99 pass includes the Antonio Bliss Saxchata & Dani J concerts. Get one before the price goes up!
For information on Kizomba Dance Festivals check out our sister site the Kizomba Embassy Festival Page Here!
See you on the Dance Floor!
Additional Details
Organizer name - Tijuana Dance Festivals
Website - https://tijuanasbf.com/tjbf-eng
Facebook - https://www.facebook.com/events/432645904427460/