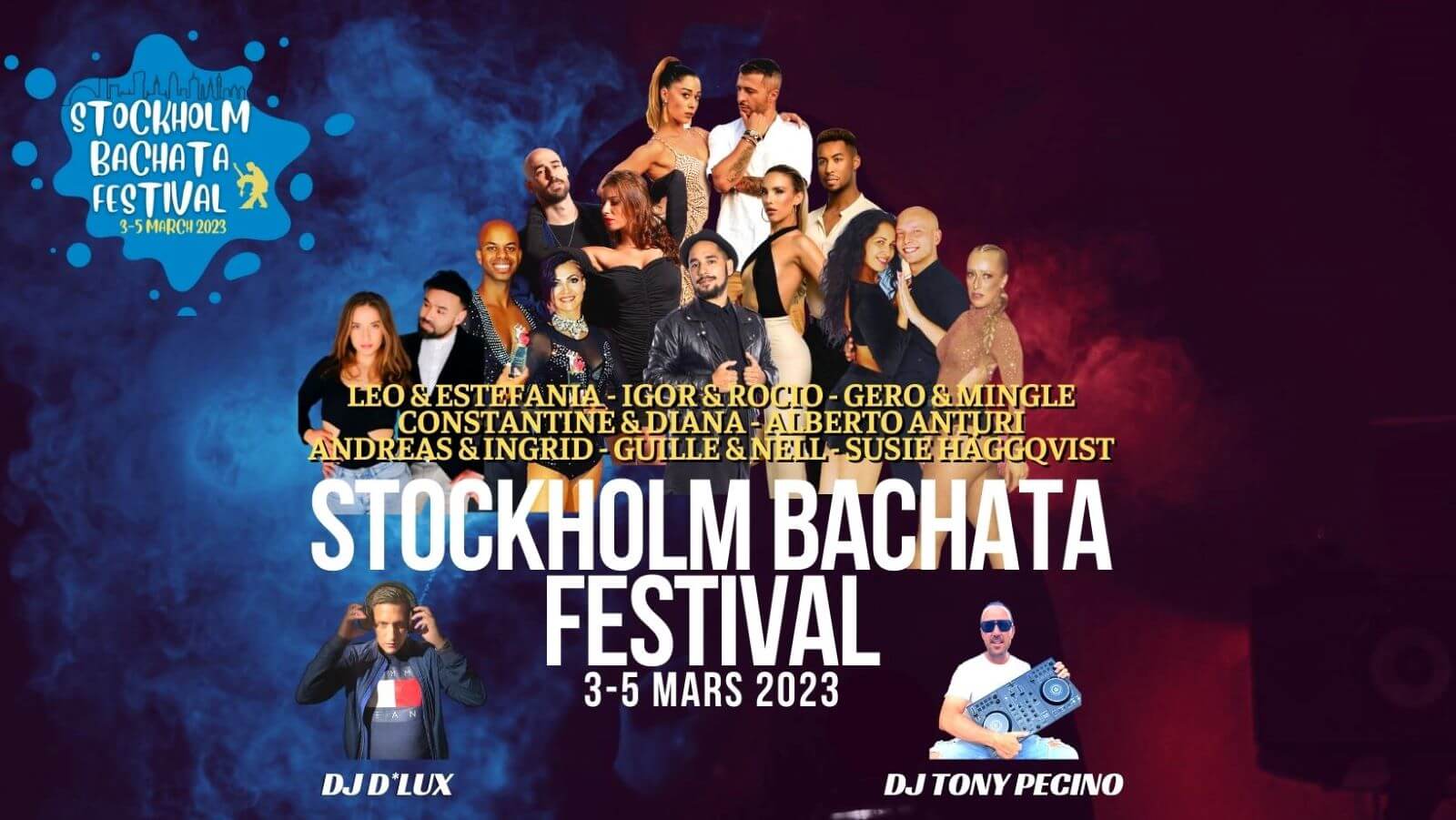 Stockholm Bachata Festival Will Make You Dance!
41
41 people viewed this event.
The 2023 Stockholm Bachata Festival is set for March 3rd until the 5th, 2023!
Where is the 2023 Stockholm Bachata Festival Venue

?

Stadsgårdsterminalen 26 (Slussen), 116 45 Stockholm. Cruise Ship Terminal

Use this Special Bachata Embassy link which features available local hotels for the dates of this festival. Many of these hotels have excellent cancellation policies!
Why should you attend the Stockholm Bachata Festival?
Firstly there will be local and top international artists!
Secondly, there will be fantastic dance workshops!
Thirdly there will be a dress code theme gala night and nightly parties!
Fourthly it is being held in beautiful Stockholm!
DISCLAIMER: This post may contain affiliate links. If you buy something through one of these links or promo codes, you won't pay a penny more, but we will get a small commission, which helps keep the lights on.
What is the Festival Program?
Friday, March 3rd, 2023
1900 Inscription open
20:00 until 21:00 pre-party workshop (artist will be announced shortly)
21:00 until 03:00 Friday party (Dresscode Theme: White color)
Saturday, March 4th, 2023
09:00 till 17:00 Inscription open
10:00 until 18:00 workshops
1900 Inscription open
20:00 until 21:00 pre-party workshop (artist to be announced)
21:00 till 05:00 Saturday party (Dresscode Theme: Gala night)
Sunday, March 5th, 2023
09:00 until 17:00 Inscription open
10:00 until 17:00 workshops
Bachata Lineup:
Leo & Estefania! Igor & Rocio! Ger & Mingle! Constantine & Diana! Guille & Nell! Andreas & Ingrid! Alberto Anturi! DJ Tony Pecino!
Where can I get passes for this Bachata Festival?
Passes are available from the Organizer's event website here. Several different passes are available. These include Workshop Pass, Party Pass, and also a Full Pass.
Unfortunately, no Bachata Embassy Promo Codes are available for this event!
This Bachata Embassy Hotel link shows the nearby hotels with availability for the festival dates! Also, many of these hotels have excellent cancellation policies. PROTIP: When planning on attending a festival overseas, always try to book a refundable room in case you have to cancel!
ABOUT THE BACHATA EMBASSY
The Bachata Embassy is based out of the Washington, DC Metro Area with Team members and Bachata Dancers from all over the globe! We are indeed passionate about Bachata!
Above all, we are also dedicated to growing the Bachata community by highlighting all styles of professional Bachata dance instructors, artists, festivals, news, and events around the world!
This includes Traditional Bachata, Bachata Sensual, Bachata Tango, and also Bachata Fusion.
Our website is available in English, French, Portuguese, Spanish, Japanese, Italian, Polish, and also Chinese.
For the latest and up-to-date information on Bachata Festivals worldwide, check out the Bachata Embassy Events Calendar here!
If you would like to add your upcoming Bachata Festival and or event to our Calendar, then contact us here!
Join the Bachata Embassy Facebook Group here!
Follow us on Instagram here!
Also, check out our Bachata Embassy Facebook page here!
See our latest blog posts here!
For Kizomba dancers, check out our sister site Kizomba Embassy. Here you can find the latest and up-to-date information on Kizomba Festivals and our Kizomba Ambassadors!
Additional Details
Organizer name - Stockholm Bachata Festival
Organizer Email - stockholmbachatafestival@gmail.com
Website - https://beacons.ai/stockholmbachatafestival?
Facebook - https://www.facebook.com/events/1032961157407697