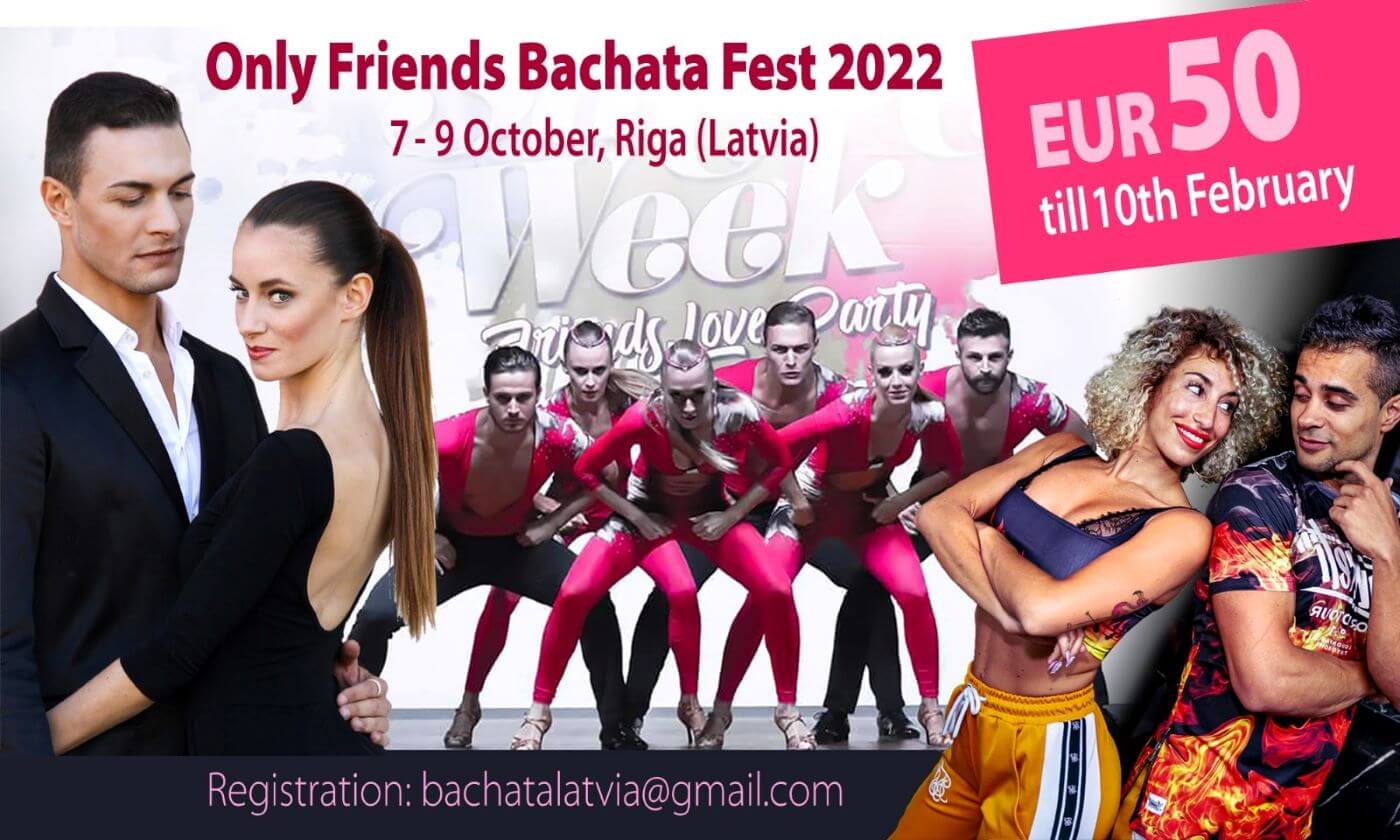 ONLY FRIENDS BACHATA FESTIVAL 2022 WILL BE AWESOME!
109
109 people viewed this event.
Welcome to the Only Friends Bachata Festival 2022! This Bachata, Salsa, and Kizomba festival will be held from 07 till 09 October 2022!
DISCLAIMER: This post may contain affiliate links. If you buy something through one of these links or promo codes, you won't pay a penny more, but we will get a small commission, which helps keeps the lights on.
The location for the Only Friends Bachata Fest 2022 is the Event studio, Krimuldas street 6 Riga, Latvia. This will be the 6th edition of this wonderful dance festival.
Only Friends Bachata Festival Program!
The dance parties will include 70% Bachata music and 30% of Salsa & Kizomba music, Additionally, it will feature some of the best international and local dance instructors. This 2 day and three-night festival will allow attendees to participate in Bachata workshops, see awesome performances and dance the night away at fun dance parties. All of the events will be in a large 300 meters squared hall. The dance workshops level will range from intermediate to advanced.
Only Friends Bachata Festival 2022 Artists & also Djs!
This year we are fortunate to have some amazing artists with us. This includes Andrea and also Silva, three-time World Bachata Champions! We will also feature TV Show performers and the Extravagance Dance Company.
We will also have Simone & Jessica from Italy, Abdel & Lety from Cuba & Spain, Bachata Flow,
Riccardo Recanati from Italy, Mostafa el Farao from Norway, and also Ovidijus & Viktorija from Lithuania.
We will also have international Djs to include DJ Free from Turkey, DJ Kasra from Norway, DJ El Farao also from Norway, and DJ Ricky R from Italy.
Full Pass Information
Contact the Festival organizers directly in order to get your full pass. No Bachata Embassy Discount codes are available for this festival.
50 Euros for a Full pass till 10/02/2022.
60 Euros for a Full pass till 10/03/2022.
70 Euros for a Full pass till 10/04/2022.
80 Euros for a Full pass till 10/05/2022.
90 Euros for a Full pass till 10/09/2022.
Online registration will close 10/09/2022 and a full pass will be 100 Euros at the door
1 workshop is 10 Euros at the door (there will be around 12 workshops).
PARTIES: Party Pass is 25 Euros at the door.
Friday 10 Euros at the Door
Saturday 15 Euros at the Door
Sunday 5 Euros at the Door
The Facebook Link for this festival is
https://www.facebook.com/events/235297418682814
For additional information and registration, you can email the festival organizers at bachatalatvia@gmail.com
ABOUT US
The Bachata Embassy is based out of the Washington, DC Metro Area! We have Team members and Bachata Dancers all over the globe!  We are passionate about Bachata!
Above all, we are dedicated to growing the Bachata community worldwide! We also promote all styles of professional Bachata dance instructors, artists, and festivals!
This includes Traditional Bachata, Bachata Sensual, Bachata Tango, and also Bachata Fusion. We are also a multilingual website.
Check out the Bachata Embassy Events Calendar here! 
You can also add your Bachata Festival to our Calendar here! Contact us here!
You can also join the Bachata Embassy Facebook Group here!  
Additionally, follow us on Instagram here!
Read our Bachata Blog here!
Kizomba dancers can also check out our sister site Kizomba Embassy. Obviously, It has the latest information on Kizomba Festivals around the world. Check out our top Kizomba Artists, Dancers, who are also Kizomba Ambassadors!
Additional Details
Organizer name - Only Bachata Festival
Organizer Email - bachatalatvia@gmail.com
Facebook - https://www.facebook.com/events/235297418682814