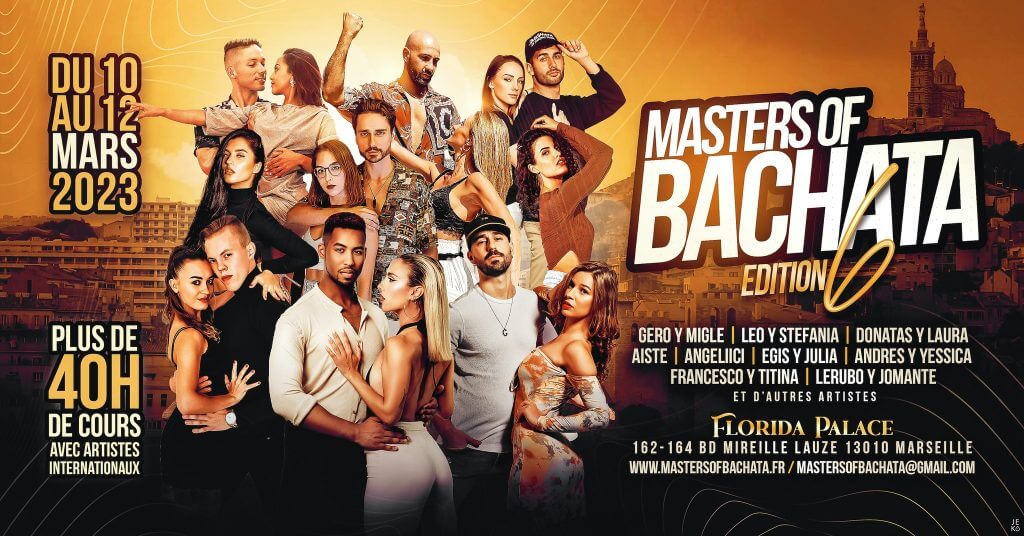 Masters of Bachata Festival will be Magical!
39
39 people viewed this event.
The Masters of Bachata is a Bachata Sensual Festival in Marseille, France.
This 2023 Sensual Bachata Festival is scheduled for March 10th to the 13th. The organizers of this festival are the very popular Marseille Danse Academy!
Why should you attend the Masters of Bachata festival?
Firstly artists and performers from around the world are invited! Secondly, it will include many fun dance workshops!
Thirdly there will be parties and many more activities that will bring all Bachata lovers together!
Fourthly it will be held at the beautiful Florida Palace in Marseille, France!
Master of Bachata Lineup:
INTERNATIONAL DANCERS
Andres & Yessica – Spain
Leoandro y Stefania – Lithuania
Donatas & Laura – Lithuania
Gero & Migle – Spain
Egi & Julia – Austria
Lerubo & Jomante – Lithuania
Francesco y Titina – Italia
Angelicii bachata – Lithuania
Aiste – Lithuania
NATIONAL DANCERS
Yannick
Nicolas
Moz & Manon
Laurent & Gwen
Jeremy & Julie
Isabelle Menzanares
Jérôme & Floria
Kirt & Chloé
DJ'S
Pablo
Taz
Vireack
Smile
Masters of Bachata Venue
Le Florida Palace
162-164 Boulevard Mireille Lauze, 13010 Marseille, France
This Bachata Embassy Hotel link shows the nearby hotels with availability for the festival dates! Also, many of these hotels have excellent cancellation policies. PROTIP: When planning on attending a festival overseas, always try to book a refundable room in case you have to cancel!
DISCLAIMER: This post may contain affiliate links. If you buy something through one of these links or promo codes, you won't pay a penny more, but we will get a small commission, which helps keep the lights on.
The Florida Palace offers a central geographical location! It is located in the heart of Marseille.
It also has 7 modular spaces with up to 720 m2 for popular events in Marseilles.
The terrace is known for some beautiful cocktail parties, during the day and at sunset.
It is also very easy to get to thanks to its central location, both by bus and metro.
The Florida Palace is located close to the Hippodrome de Pont de Vivaux. The Stade Vélodrome and the Parc des Expositions are close by.
No Bachata Embassy Promo codes are available for this festival. Additionally, all passes must be bought directly from the Organizer's website.
ABOUT US
The Bachata Embassy is based out of the Washington, DC Metro Area with Team members and Bachata Dancers from all over the globe! We are indeed passionate about Bachata!
Above all, we are also dedicated to growing the Bachata community by highlighting all styles of professional Bachata dance instructors, artists, festivals, news, and events around the world!
This includes Traditional Bachata, Bachata Sensual, Bachata Tango, and also Bachata Fusion.
Our website is available in English, French, Portuguese, Spanish, Japanese, Italian, Polish, and also Chinese.
For the latest and up-to-date information on Bachata Festivals worldwide, check out the Bachata Embassy Events Calendar here! 
If you would like to add your upcoming Bachata Festival and or event to our Calendar, then contact us here!
Join the Bachata Embassy Facebook Group here!
Follow us on Instagram here!
Also, check out our Bachata Embassy Facebook page here!
See our latest blog posts here!
For Kizomba dancers, check out our sister site Kizomba Embassy. Here you can find the latest and up-to-date information on Kizomba Festivals and our Kizomba Ambassadors!
Additional Details
Organizer name - Marseille Danse Academy
Organizer Email - mastersofbachata@gmail.com
Website - www.mastersofbachata.fr
Facebook - https://www.facebook.com/Masters-of-Bachata-Marseille-811374508933994