Registrations have closed.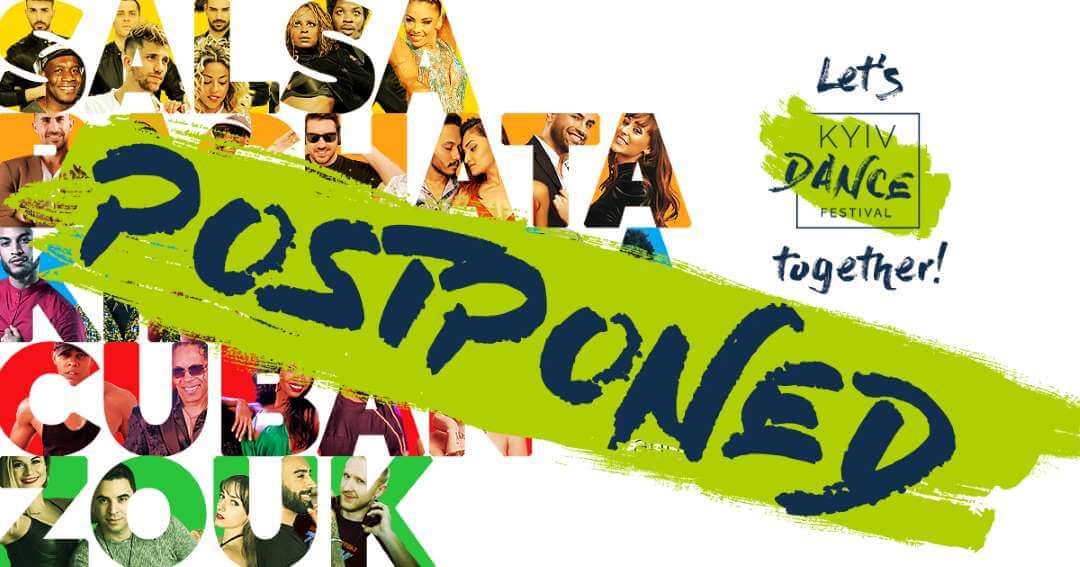 THE KYIV DANCE FESTIVAL WILL MAKE YOU SMILE!
558
558 people viewed this event.
Kyiv Dance Festival is Cancelled!
UPDATE 02/24/22 The Festival is canceled. Our prayers are with the Ukrainian People. Glory to Ukraine! Слава Україні!
DISCLAIMER: Our posts may contain affiliate links. If you buy something through one of these links or promo codes, you won't pay a penny more, but we will get a small commission, which helps keep the lights on.
Welcome to the Kyiv Dance Festival 2023! The dates for this festival are March 09-12, 2023!
Why should you attend this festival? Firstly, this is the largest International Dance Festival in Ukraine. Secondly, It will feature 5 dance styles. The Dance styles include Bachata, Kizomba, Salsa On1 & On2, Salsa Cubana, and also Zouk.
Thirdly, the location is the beautiful Kyiv Mercure Congress Center. Lastly, this center has over 5000 square meters of dance space. Guests can also attend over 80 fun workshops. Additionally, we will have some of the best dance instructors. We will also have 80 hours of great parties.
Three shows and a spectacular live concert by Mandinga are also part of the festival. We anticipate over 4000 guests from more than 60 countries.
As a result, you will have great memories of unforgettable dances and make many new friends.
Kyiv Dance Festival Bachata Artists
Marco & Sara – Spain
Kike & Nahir – Spain
Cornel & Rithika – India
Alejandro -DJ- Argentina
Engel-DJ – Cuba
Raul & Maria – Ukraine
Chico & Liza -Ecuador/Ukraine
Papi Shango -DJ- Ukraine
Kyiv Dance Festival Salsa Artists
Terry & Cecile – France
Antonio & Jasmina Berardi – Italy
Full Project- Italy
Jessica Patella – Italy
Moe Flex – UK
Julian Duke – DJ – UK
Marco -DJ – Ukraine
LaKosta -DJ – Ukraine
Kyiv Dance Festival Cuban Salsa Artists
Seo Fernandez – Cuba
Eneris Mulgado – Cuba
Osmani Segura – Cuba
Engel-DJ – Cuba
Maikiu-DJ – Cuba
Papi Shango-DJ – Ukraine
Kyiv Dance Festival Kizomba & Also Urban Kiz Artists
Ambassadors Val'r & St'Effy Afrokiziak and also Dwe & Gaby!
Azzedine – France
Sophie Madison – France
Fola & Jaja – Nigeria/Ukraine
Ichigo-DJ – France
Ozy Shyne-DJ – France
Saaber-DJ – Belgium
Teo-DJ – Ukraine
Gato-DJ – Ukraine
Casanova team – Netherlands
Divine Kiz – Netherlands
Afrokiziak Team – France
Zouk Artists
Leo & Mathilde – Brazil/France
Freddy & Andressa – Brazil
Aleksandr & Anna – Ukraine
Constantine & Diana – Ukraine
Andrei & Anastasia – Ukraine
Dunaj-DJ – Poland
Slava-DJ – Ukraine
Special Bachata Embassy Promo Codes!
Moreover, use our Promo code BACHATAEMBASSY to receive a discount of 7 euro on a Full Pass. Salsa, Bachata, Kizomba and also Zouk passes.
Promo Code "BACHATAEMBASSY10″ also gives you a 10 Euros discount for Passes with accommodation in the Mercure and IQ hotel.
Therefore, book your Passes directly from the Festival Here!
ABOUT US
The Bachata Embassy is based out of the Washington, DC Metro Area! We have Team members and Bachata Dancers all over the globe! We are passionate about Bachata!
Above all, we are dedicated to growing the Bachata community worldwide! We also promote all styles of professional Bachata dance instructors, artists, and festivals!
This includes Traditional Bachata, Bachata Sensual, Bachata Tango, and also Bachata Fusion. We are also a multilingual website.
Check out the Bachata Embassy Events Calendar here!
You can also add your Bachata Festival to our Calendar here! Contact us here!
You can also join the Bachata Embassy Facebook Group here!
Additionally, follow us on Instagram here!
Kizomba dancers can also check out our sister site Kizomba Embassy. Obviously, It has the latest information on Kizomba Festivals around the world. Check out our top Kizomba Artists, Dancers, who are also Kizomba Ambassadors!
Additional Details
Organizer name - Dennis Nedelko
Organizer Email - kyivdancefestival@gmail.com
Website - http://kyivdancefestival.com/
Facebook - https://www.facebook.com/events/1326710724366340