Registrations have closed.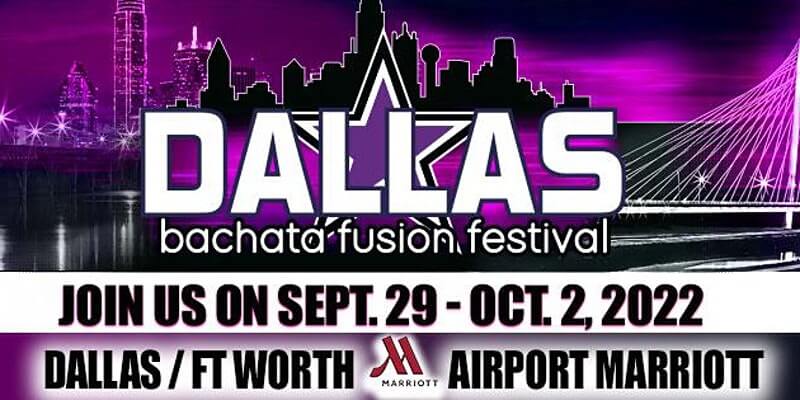 Dallas Bachata Festival Will Make You Smile!
151
151 people viewed this event.
Welcome to the 14th Annual Dallas Bachata Festival! The Dallas Bachata Dance Festival is from September 29 to October 2, 2022! Without a doubt, it will be the best Bachata Dance Festival in Dallas!
DISCLAIMER: This post may contain affiliate links. If you buy something through one of these links or promo codes, you won't pay a penny more, but we will get a small commission, which helps keeps the lights on.
Why attend this festival? Firstly, the Dallas Bachata Festival will have over fifty fun dance workshops! Secondly, there will be evening shows, night parties, and fun pool parties! Thirdly and most importantly, many of the Top Dance Instructors & DJs will be here!
In fact, the program has over fifty dance workshops on the schedule.
This includes Bachata, Salsa, and Kizomba Dancing lessons.
Moreover, these lessons are for all dance levels. Beginner, Intermediate and Advanced.
It will also have four nights of social dancing and two-night shows.
Dance rooms include:
Sensual Bachata Room!
Traditional Bachata Room!
Salsa Room!
Kizomba Room!
Zouk Room!
On Saturday night there will be a Halloween Party! After that, on Sunday night all Artists will be on the dance floor! The hotel ballroom has over 13,000 square feet of space. In other words, don't miss this festival!
Dallas Bachata Festival Location
The Dallas Fort Worth Airport Marriott is located at 8440 Freeport Pkwy, Irving, TX. The phone number is (972) 929-8800.
Additionally, the hotel has special rates for festival guests.
$125 per night for a king room with sofa bed.
$145 per night for a double room.
This Marriott is located very near to the Dallas Fort Worth International Airport. As a result, the hotel provides a free shuttle service to and from the airport. Just call them for a ride when you arrive.
The hotel also has a Starbucks in the lobby. They also have an indoor/outdoor pool and a modern fitness center.
Dallas Bachata Festival Ticket information
Tickets are priced between $85 and $135. All in all that is a good deal for this festival. https://www.dallasbachatafestival.com/
ABOUT US
The Bachata Embassy is based out of the Washington, DC Metro Area! We have Team members and Bachata Dancers all over the globe! We are passionate about Bachata!
Above all, we are dedicated to growing the Bachata community worldwide! We promote all styles of professional Bachata dance instructors, artists, and festivals!
This includes Traditional Bachata, Bachata Sensual, Bachata Tango, Bachata Fusion, etc. We are also a multilingual website.
For the latest information on Bachata Festivals check out the Bachata Embassy Events Calendar here!
You can add your Bachata Festival to our Calendar here! Contact us here!
You can also join the Bachata Embassy Facebook Group here!
Follow us on Instagram here!
Kizomba dancers, check out our sister site Kizomba Embassy. Here you can find the latest information on Kizomba Festivals around the world. Check out our top Kizomba Artists, Dancers, who are Kizomba Ambassadors!
Additional Details
Organizer name - Jorge Elizondo
Organizer Email - support@dallasbachatafestival.com
Website - https://www.dallasbachatafestival.com/
Facebook - https://www.facebook.com/DallasBachataFest