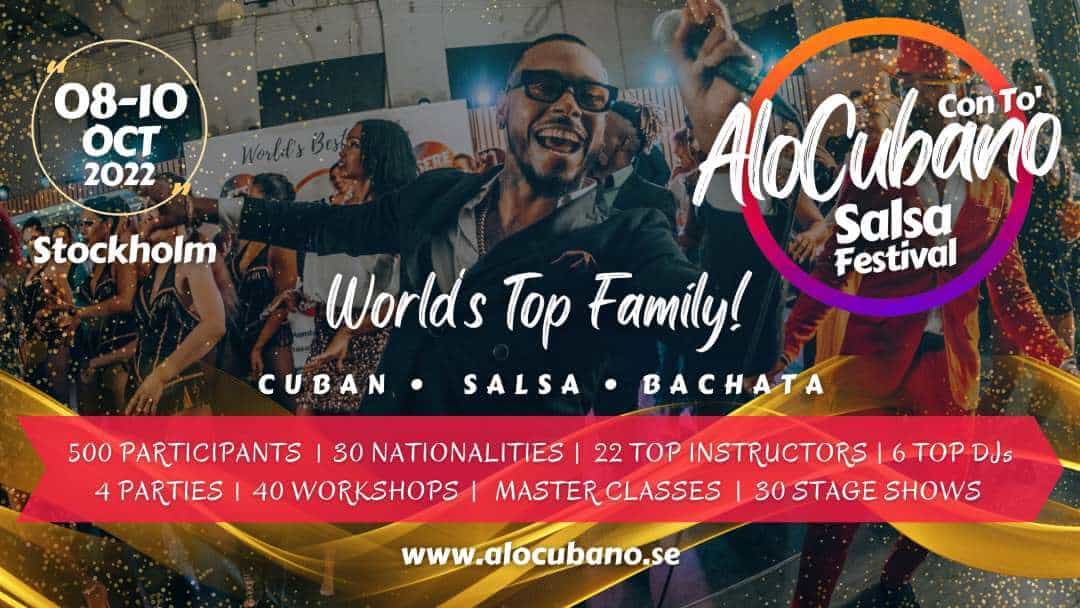 READY FOR THE BEST CUBAN SALSA DANCE FESTIVAL IN SWEDEN!
54
54 people viewed this event.
The 12th Annual Alocubano Cuban Salsa Dance Festival in Stockholm, Sweden is scheduled for 07 till 09 October 2022! 
DISCLAIMER: This post may contain affiliate links. If you buy something through one of these links or promo codes, you won't pay a penny more, but we will get a small commission, which helps keeps the lights on.
Who is the Organizer? 
Julio Espinal, a Cuban native of Santiago De Cuba is the organizer of the Alocubano Cuban Salsa Festivals! 
Where is this Dance Festival?
The 2022 Alocubano Cuban Salsa Dance Festival in Stockholm, Sweden will be held at The Royal Park Hotel!
Why should you attend this Cuban Salsa Festival?
Firstly it is a well-run dance festival run by an experienced organizer, currently in its 12th edition! 
Secondly, this dance festival will also feature Bachata Dancing, Reggaeton, and other Salsa Dancing styles! 
Thirdly it will feature 30 world-class instructors and DJs along with 40 hours of dance classes and fantastic workshops!  
Fourthly there will be four nights of fun parties as well as 20 staged shows! Additionally, all events will be held at one location with over 500 participants!
2022 Cuban Salsa Dance Line Up
Yoyo Flow (Cuba/Spain)
Seo Fernandez (Cuba/Italy)
Eneris Mulgado (Cuba/Italy)
Andy & Yuliet (Cuba/Norway)
Barbara Jimenez (Cuba/Italy)
Danger & Yunaisy (Cuba/Spain)
Pedrito & Giusy (Cuba/Italy)
Adonis Santiago (Cuba/Russia)
Addy Mendoza (Cuba/Italy)
Leyanet Bell (Cuba/Israel)
Keke el Peluche (Cuba/France)
Alicia Velasco (Spain)
Javier Trujillo (Cuba/Sweden)
2022 Cuban Salsa Dance DJs
Javier La Rosa (Cuba/UK)
Flecha (Cuba/UK)
Soto-Mayor (Cuba/Sweden)
Mauri (Greece/Netherlands)
2022 Dance Festival Venue
Royal Park Stockholm located at Frosundaviks Alle 15, Solna 169 03, Sweden
The hotel offers friendly service, a spacious lobby and restaurant area, clean rooms with nice amenities, and also a fabulous view of the lake.  It is also very peaceful after 8pm.  The restaurant also offers a nice selection of both vegan as well as non-vegan breakfast options.
Cuban Salsa Dance Festival Promo Code
Use our discount promo code (Bachata Embassy) to book your passes. All passes must be booked via the Organisers website Alocubano!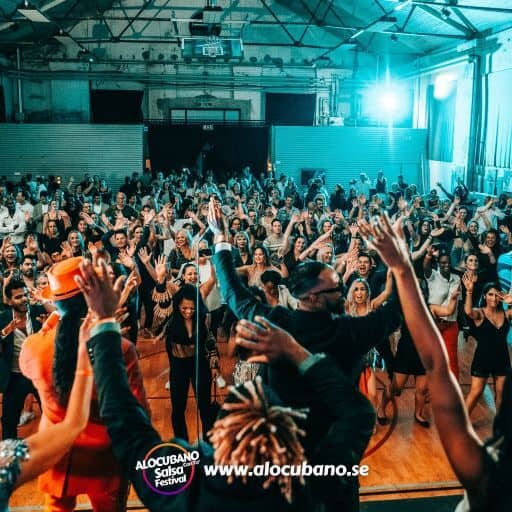 ABOUT US
The Bachata Embassy is based out of the Washington, DC Metro Area! We have Team members and Bachata Dancers all over the globe!  We are passionate about Bachata!
Above all, we are dedicated to growing the Bachata community worldwide! We also promote all styles of professional Bachata dance instructors, artists, and festivals!
This includes Traditional Bachata, Bachata Sensual, Bachata Tango, and also Bachata Fusion. We are also a multilingual website.
Check out the Bachata Embassy Events Calendar here! 
You can also add your Bachata Festival to our Calendar here! Contact us here!
You can also join the Bachata Embassy Facebook Group here!  
Additionally, follow us on Instagram here!
Kizomba dancers can also check out our sister site Kizomba Embassy. Obviously, It has the latest information on Kizomba Festivals around the world. Check out our top Kizomba Artists, Dancers, who are also Kizomba Ambassadors!
Additional Details
Organizer name - Julio Espinal-Alocubano Salsa Festival
Organizer Email - alocubanofestival@gmail.com
Website - https://alocubano.se/alocubano-salsa-festival/
Facebook - https://www.facebook.com/events/404654437809140