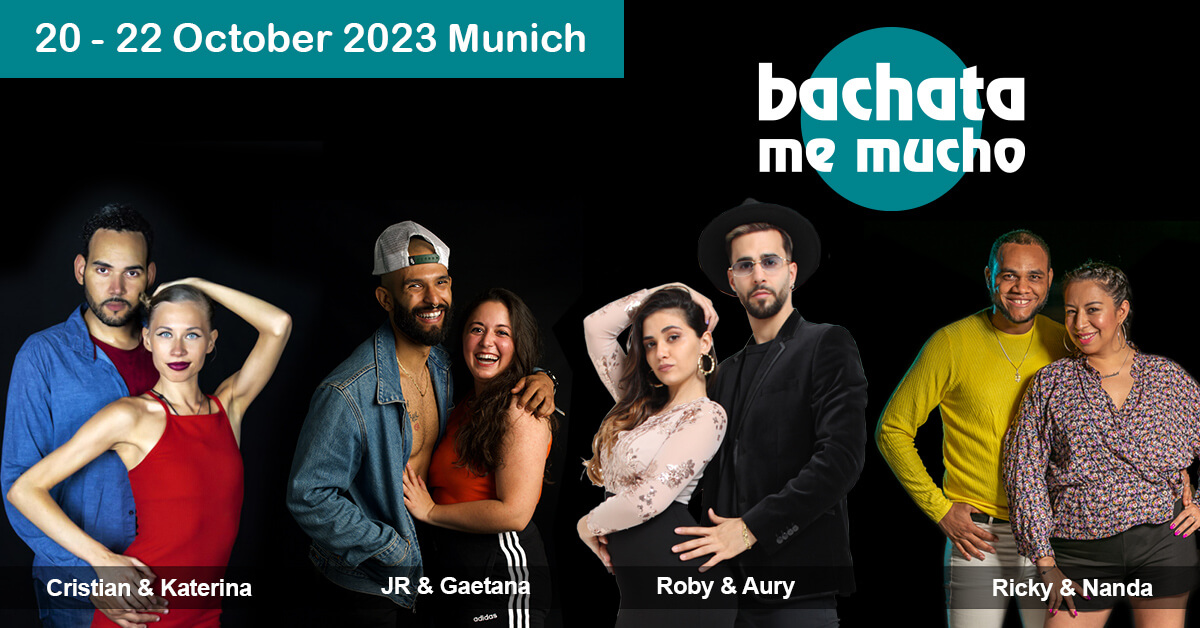 We're Ready For The Authentic Bachata Me Mucho Festival!
178
178 people viewed this event.
The 2023 Bachata Me Mucho Dance Festival is October 20-22 in Munich, Germany!
This is a festival for lovers of Bachata Dominicana Authentic Bachata! Just like Bachata is danced in the Dominican Republic!
What is the location of the Bachata Me Mucho Festival?
Circulo Tanzschulen München GmbH, Rosenheimer Str. 139 (entrance via Friedensstraße), 81671 Munich, Germany.
Here are some recommended hotels for the 2023 Bachata Me Mucho Munich Festival:
Gambino Hotel WERKSVIERTEL Atelierstr. 7 81671 München
Moxy München Ostbahnhof – Grafinger Str. 7 81671 München
Motel One Munich-Haidhausen Rosenheimerstraße 110 81669 Munich
DISCLAIMER: This post may contain affiliate links. If you buy something through one of these links or promo codes, you won't pay a penny more, but we will get a small commission, which helps keep the lights on.
Remember to always book a refundable room! Don't lose money! Our Bachata Embassy hotel links above have refundable room rates. Book quickly as rooms are starting to run out.
The festival is being held at Circulo. Circulo is the largest dance school for Cuban Salsa in Munich. Moreover, CIRCULO is an integral part of Munich's Salsa scene. https://circulo.de/
It has seven, highly equipped rooms, and frequently hosts dance classes, parties, and also Cuban Salsa Festivals.
The dance studio has a very classy interior, a flexible stage & excellent quality light, and a sound system. Overall it is an impressive setup for dancing.
Why Should you attend the Bachata Me Mucho Festival?
Firstly the Bachata Me Mucho Bachata Dance Festival organizers present a great line-up of artists and teachers!
Secondly, in addition to the great dance and musicality workshops, they also set up some extraordinary night parties!
Thirdly, the festival will feature live Bachata Dominicana music by Ricky Manuel. Ricky is one of the best Bachata guitarists worldwide! Get ready to be pleasantly surprised!
The bottom line is a great Bachata Dominicana Dance festival with 30 workshops and 600 guests!
What are the Bachata Me Mucho Workshops?
#1 Workshop is Bachata Footwork.
This workshop will cover clever step variations that fit the music! Also, learn new step variations from the nearly endless number of possibilities. This can really spice up your Bachata Dancing!
#2 Workshop is Bachata Partnerwork.
New partner moves which are, elegant, and refined, and will help your dancing!
#3 Workshop is Bachata Musicality.
This will cover "Where does Bachata come from?", "How is bachata structured, which instruments, etc?" Here you will learn about musicality with amazing musicians Ricky Manuel and Nanda!
Who Is the Organizer Of The Bachata Me Mucho Festival?
CIirculo Tanzschulen München
Organizer Email – info@circulo.de
Where can I get passes?
Passes are available directly from the Festival Organizers' website.
No Bachata Embassy Discount Promo codes are available for this festival!
Schedule
The Instructors arrive on Friday. During the "Welcome Party" you will have the opportunity for a meet and greet with them and of course, to watch them dance! Additionally, there might be some show events as well! So don´t miss it!
08:00 pm.: Registration and collection of dance pass.
09:00 pm: Welcome Party.
10.30 pm: Presentation of the teachers.
Admission Friday is € 15,- Admission, is free for participants of the festival who have a Full pass.
On Saturday the big festival party will include great shows by the teachers!! A full program awaits you!
08:00 pm: Entry
The starting time for the shows has yet to be announced.
The big festival party will definitely be a highlight this year! Let yourself be carried away by the great atmosphere and celebrate with us! You won't soon forget this party!
Admission Saturday is € 25,- admission is free for participants who have a full pass!
DISCLOSURE STATEMENT
Specifically, all information provided here is for informational purposes and is subject to change. We do our very best to keep all data up to date.
However, it is important to check all information with the official organizers to ensure accuracy. We are not responsible and are not liable for any damages caused by inaccurate information.
ABOUT US
The Bachata Embassy is based out of the Washington, DC Metro Area with Team members and also Bachata Dancers from all over the globe! We are indeed passionate about Bachata!
Above all, we are also dedicated to growing the Bachata community by highlighting all styles of professional Bachata dance instructors, artists, festivals, news, and events around the world!
This includes Traditional Bachata, Bachata Sensual, Bachata Tango, and also Bachata Fusion.
We are also a multilingual website.
For the latest information on Bachata Festivals around the world check out the Bachata Embassy Events Calendar here!
If you would like to add your upcoming Bachata Festival and or event to our Calendar, then contact us here!
You can also join the Bachata Embassy Facebook Group here!
Follow us on Instagram here!
Check out our Bachata Embassy Facebook page here!
For Kizomba dancers, check out our sister site Kizomba Embassy.
Here you can find the latest information on Kizomba Festivals and our Kizomba Ambassadors!
Additional Details
Organizer name - CIRCULO Tanzschulen München
Organizer Email - info@circulo.de
Website - https://bachata-me-mucho.de/de/
Facebook - https://www.facebook.com/bachata.me.mucho