Registrations have closed.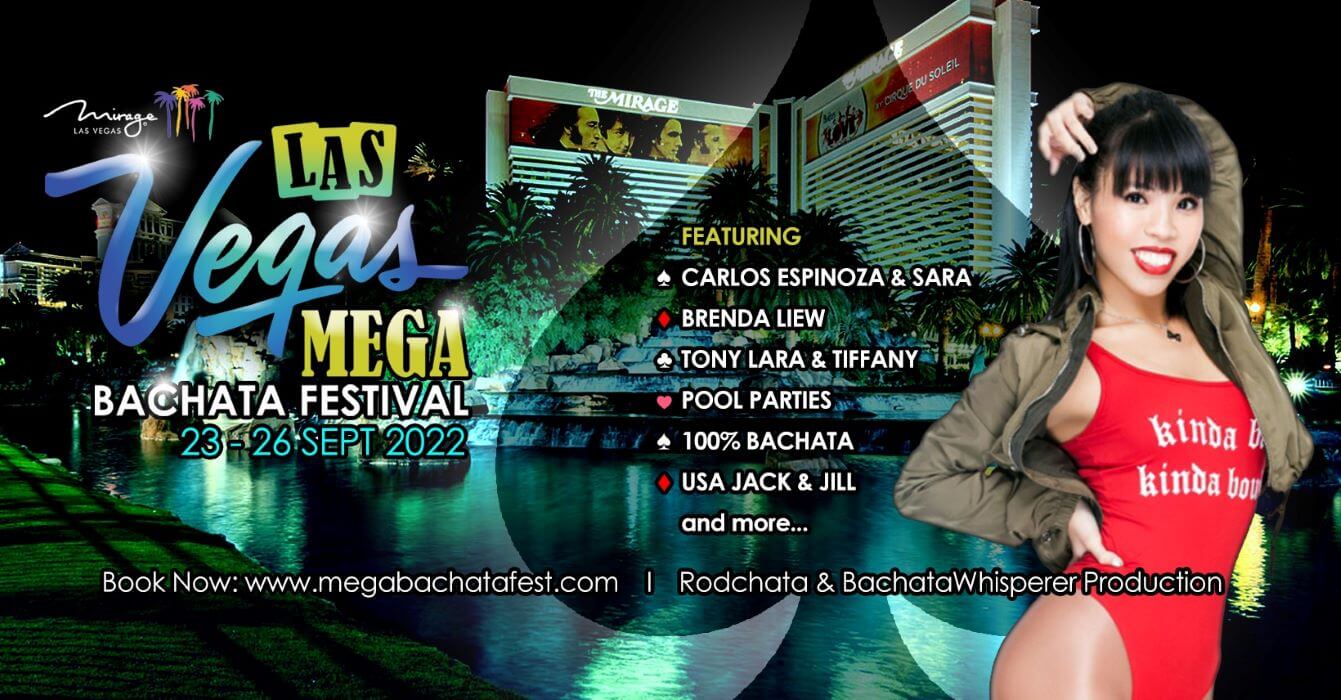 BACHATA LAS VEGAS MEGA FESTIVAL 2022
196
196 people viewed this event.
Welcome to the 2022 Bachata Las Vegas Mega Festival! Why should you attend this festival?
Firstly it's happening at the Mirage with over 18,000 square feet of ballroom space. Secondly, there will be fabulous workshops and shows! Thirdly there will be fun socials and competitions!
DISCLAIMER: This post may contain affiliate links. If you buy something through one of these links or promo codes, you won't pay a penny more, but we will get a small commission, which helps keep the lights on.
This Festival is from the creators of the San Francisco International Bachata Festival & also the Sexy & Sensual Latin Festival! Tony Lara & Rodiculous Pro!
This weekend Bachata Dance Festival is from September 23 till 26, 2022. 4 days & 4 nights of an undeniably good time!
Bachata Las Vegas Mega Festival 2022 Dancers
At the present time, the following Dancers are scheduled to attend:
Carlos Espinoza & Sara from Spain!
Brenda Liew Singapore!
Tony Lara Australia!
Rodchata USA!
More Bachata dancers will be added shortly!
Bachata Las Vegas Mega Festival 2022 Location
Furthermore, It's happening at The Mirage Hotel & Casino!
A beautiful Four Diamond award winner located center-Strip with a cool volcano!
The Mirage Hotel & Casino address is 3400 S Las Vegas Blvd,
Las Vegas, NV 89109.
The Mirage volcano is located outside the Las Vegas boulevard main entrance
The Volcano shows are normally held every Monday through Sunday from 7:00pm till 11:00pm.
Bachata Las Vegas Mega Festival Tickets!
Tickets range from $180 to $300.
Full Pass
$180 – 1st Limited 50 Tickets (1st Pre-Sale)
$200 – 2nd 50 Limited Tickets (Final Pre-Sale)
$225 till Feb 28th
$250 till May 30th
$275 till 1st Sept
However, no Bachata-Embassy discount codes are available for this festival. For further information check out the festival website: www.megabachatafest.com
ABOUT US
The Bachata Embassy is based out of the Washington, DC Metro Area! We have Team members and Bachata Dancers all over the globe! We are passionate about Bachata!
Above all, we are dedicated to growing the Bachata community worldwide! We also promote all styles of professional Bachata dance instructors, artists, and festivals!
This includes Traditional Bachata, Bachata Sensual, Bachata Tango, and also Bachata Fusion. We are also a multilingual website.
Check out the Bachata Embassy Events Calendar here!
You can also add your Bachata Festival to our Calendar here! Contact us here!
You can also join the Bachata Embassy Facebook Group here!
Additionally, follow us on Instagram here!
Kizomba dancers can also check out our sister site Kizomba Embassy. Obviously, It has the latest information on Kizomba Festivals around the world. Check out our top Kizomba Artists, Dancers, who are also Kizomba Ambassadors!
Additional Details
Organizer name - Mega Bachata Festival
Website - http://www.megabachatafest.com/
Facebook - https://www.facebook.com/MegaBachataFest