Registrations have closed.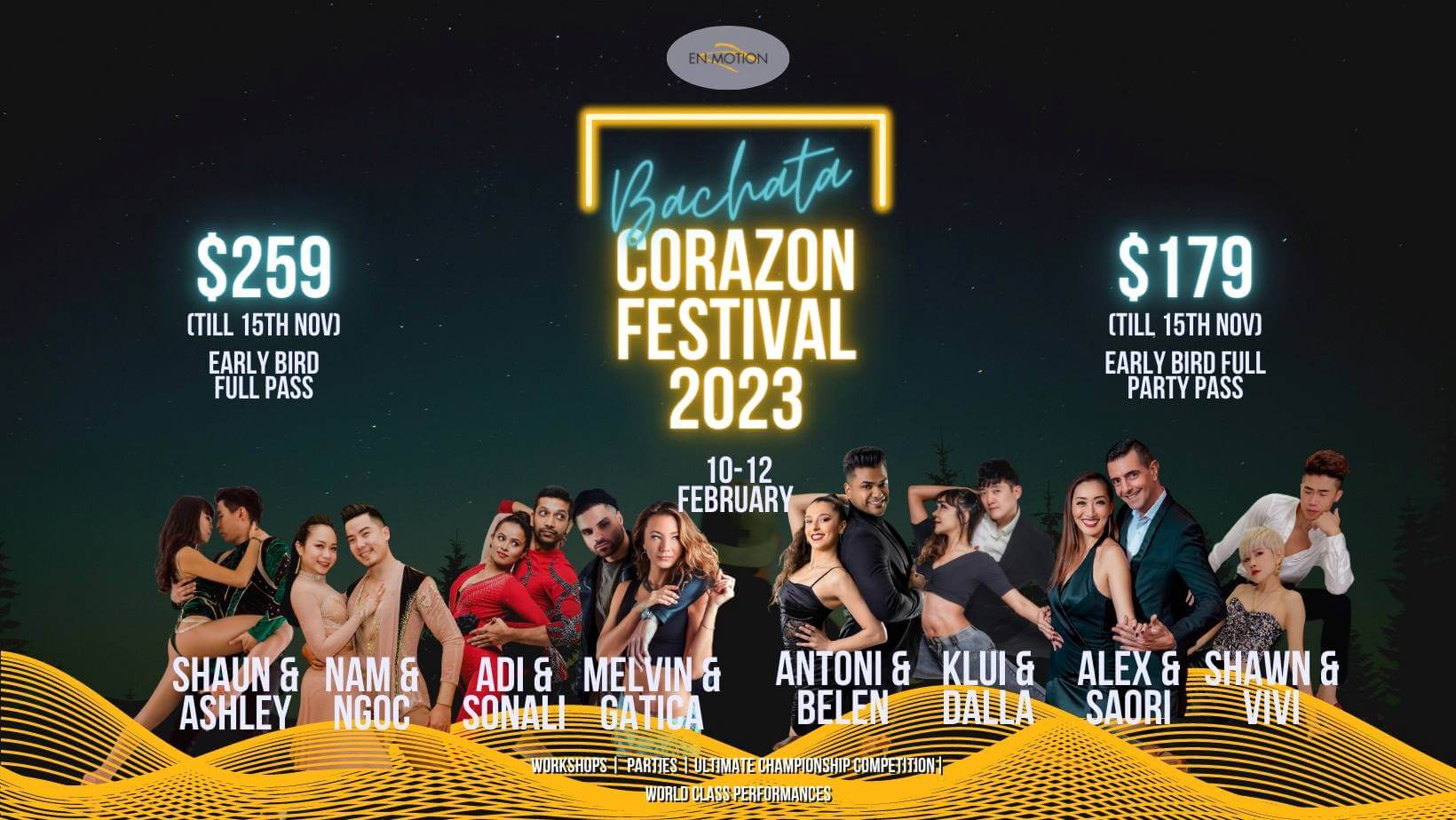 Come To The Amazing Bachata Corazon Festival in Singapore!
354
354 people viewed this event.
The 2023 Bachata Corazon Festival will be held from 10 till 13 February 2023! Prepare yourself for some Bachata dancing madness in wonderful Singapore!
What is the venue for the 2023 Bachata Corazon Festival?
8 Grange Rd, Orchard Cathay Cineleisure, Singapore 239695.
This Bachata Festival in Singapore will feature a massive 10,000 Sq Ft Dance floor at SCAPE's auditorium. It will also have a professional stage. The venus is located directly opposite Somerset train station (2 Orchard Link).
Use our below Special Bachata Embassy Link to book a Hotel Room near the Festival! It shows hotel availability for the dates of this Singapore Bachata Festival!
---
---
DISCLAIMER: This post may contain affiliate links. If you buy something through one of these links or promo codes, you won't pay a penny more, but we will get a small commission, which helps keep the lights on.
---
Why Should I attend the 2023 Bachata Corazon Festival?
Firstly there will be world-renowned Bachata artists!
Secondly, there will be over 40 hours of fantastic dance workshops!
Thirdly there will be a Bachata ultimate championship competition!
Fourthly it is being held in wonderful Singapore!
Who are the 2023 Bachata Corazon Festival Artists?
The Bachata Festival Organiser welcomes international dance artists from all around the world!
Gary Foo (Singapore/Organiser)
Melvin & Gatica (France/Norway)
Antoni & Belen (Venezuela/ Spain)
Adi & Sonali (India)
Klui & Dalla (South Korea)
Nam & Bich Ngo (Vietnam)
Alex & Saori (Romania and Japan)
Shawn & Vivi (Taiwan)
Shaun & Ashley ( Malaysia)
Berry & Anna (Indonesia & Ukraine)
Arun & Sneha (India)
Nick & Vivi (Singapore)
Joshua & Angela (Singapore)
Zee & Dalena (Singapore)
Ali & Janey (Singapore)
Yogi (India)
DJS
Harry (Malaysia)
TJ (Singapore)
Marc (Singapore)
Ashish (Singapore)
Jitu (India)
More artists to be announced soon!
So make sure to clear your calendar, and get ready for Bachata Corazon Festival 2023!
Get your tickets directly from the Festivals Organiser website here!
ABOUT US
The Bachata Embassy is based out of the Washington, DC Metro Area! We have Team members and Bachata Dancers all over the globe! We are passionate about Bachata!
Above all, we are dedicated to growing the Bachata community worldwide! We also promote all styles of professional Bachata dance instructors, artists, and festivals!
This includes Traditional Bachata, Bachata Sensual, Bachata Tango, Bachata Fusion, etc. We are also a multilingual website.
For the latest information on Bachata Festivals check out the Bachata Embassy Events Calendar here!
Kizomba dancers, check out our sister site Kizomba Embassy. Here you can find the latest information on Kizomba Festivals around the world. Check out our top Kizomba Artists, Dancers, who are Kizomba Ambassadors!
Additional Details
Organizer name - Gary Foo
Organizer Email - registerelp@gmail.com
Website - https://dance-en-motion.com/bachata-corazon-festival-2023/
Facebook - https://www.facebook.com/enlapasion